Top Stories





Rogue black holes skulk Milky Way perimeter

...Hundreds of rogue black holes left over from the galaxy building days of the early Universe could be wandering loose in the Milky Way...

Postcards from MESSENGER

...A previously unknown 690 kilometre wide impact basin and evidence that Mercury's atmosphere and the interaction of its magnetic field with the solar wind are more active than previously thought are the latest offerings from NASA's MESSENGER mission...

Fermi explores high energy "space invaders"

...New details of high energy particles detected by NASA's Fermi Gamma-ray Space Telescope were at the American Physical Society meeting held...



Spaceflight Now +





Subscribe to Spaceflight Now Plus for access to our extensive video collections!
How do I sign up?
Video archive

STS-120 day 2 highlights

Flight Day 2 of Discovery's mission focused on heat shield inspections. This movie shows the day's highlights.

Play

STS-120 day 1 highlights

The highlights from shuttle Discovery's launch day are packaged into this movie.

Play

STS-118: Highlights

The STS-118 crew, including Barbara Morgan, narrates its mission highlights film and answers questions in this post-flight presentation.

Full presentation
Mission film

STS-120: Rollout to pad

Space shuttle Discovery rolls out of the Vehicle Assembly Building and travels to launch pad 39A for its STS-120 mission.

Play

Dawn leaves Earth

NASA's Dawn space probe launches aboard a Delta 2-Heavy rocket from Cape Canaveral to explore two worlds in the asteroid belt.

Full coverage

Dawn: Launch preview

These briefings preview the launch and science objectives of NASA's Dawn asteroid orbiter.

Launch | Science

Become a subscriber
More video







Your guide to the Hubble repair mission
BY KEITH COOPER
ASTRONOMY NOW

Posted: 11 May, 2009
The space shuttle Atlantis blasts off to the Hubble Space Telescope to carry out vital repairs to one of its cameras, batteries, guidance system and gyroscopes, and completely replace two other instruments. The eleven days spent in space, and five spacewalks, will enhance Hubble far beyond the capabilities it had when it was launched 19 years ago.

It wasn't always going to happen. With uncertainty hanging over the future of the space shuttle fleet following the Columbia disaster, NASA Administrator Sean O'Keefe cancelled the repair mission in 2005. It looked like Hubble was doomed as its gyroscopes continued to fail, its batteries run dry, and its scientific instruments suffering wear and tear. However, an outcry from scientists and the public alike saw O'Keefe's successor, Michael Griffin, overturn the decision in late 2006.
Hubble was to be rescued at last.

There were still safety issues to consider. Travelling to Hubble. Atlantis would be unable to dock with the International Space Station should something go wrong. Then, just weeks before Atlantis was scheduled to launch in October 2008, hardware that processes and relays data and commands between Hubble and Earth failed, forcing the telescope to switch to a back-up system. The decision was taken to postpone the launch until this May to allow time for replacement circuit boards for the ACS to be prepared, and the astronauts trained how to fix it.
Now, at long last, the seven-strong crew of Atlantis are set to rescue Hubble. We wish them luck.
The crew of Servicing Mission 4 (SM-4)
Leading the mission will be Commander Scott Altman, a retired navy pilot who commanded the previous Hubble servicing mission in 2002, and has actually piloted the shuttle on two other occasions.

Piloting Atlantis is Captain Gregory Johnson, on his first ever spaceflight. However Johnson has over 8,700 hours worth of flying experience in over 50 aircraft, and has served as a test pilot for the Navy and a research pilot for NASA.
Mission specialist K Megan McArthur will act as flight engineer and also operate Atlantis' robotic arm, which will grab the telescope and bring it down into the shuttle's cargo bay.

Lead spacewalker and mission specialist John Grunsfeld is a former NASA chief scientist, and has been on two previous Hubble repair missions, logging 37 hours in spacewalks. He specialises in high-energy astrophysics and instrument development.

A second spacewalker and mission specialist is Michael Massimino, who was also part of the team that serviced Hubble in 2002. He's clocked up over 14 hours of spacewalks prior to this mission, and has built computer displays that will help K Megan McArthur operate the robotic arm.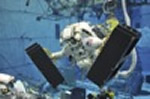 Mission specialist Andrew Feustal will be taking part in his first ever space mission, having joined NASA in 2000. He will be joining Grunsfeld and Massimino on some of SM-4's spacewalks.
The final spacewalker is Air Force Colonel Michael Good. Good, who has been a test pilot for no less than the B2 stealth bomber, will be embarking on his first ever space mission.
The instruments
Cosmic Origins Spectrograph (COS) – replacing the defunct COSTAR instrument, COS will endeavour to map out the 'cosmic web' of galaxies and gas clouds that span the Universe. It will gather the ultraviolet light of brilliant quasars that can be seen shining through this intervening cosmic web, and spectroscopy will reveal the composition of these galaxies and gas clouds.
Wide Field Camera 3 (WFC3) – This new camera will replace the old Wide Field and Planetary Camera 2, and will be capable of producing spectacular portraits of all kinds of objects in the Universe.
Advanced Camera for Surveys (ACS) – While the instrument won't be replaced, it will be fixed with technology that has been developed for the upcoming James Webb Space Telescope (JWST). Astronauts will install a device known as an Application-Specific Integrated Circuit (ASIC) as part of the camera's new CCD electronics box. The design of the ASIC is identical to the one that has been developed for JWST, bringing improved sensitivity to the ACS.
Space Telescope Imaging Spectrograph (STIS) – this instrument stopped working back in 2004 because of a failure in its power supply, and has been stuck in safe mode ever since. Astronauts on SM-4 will repair this device and bring it back to full working order.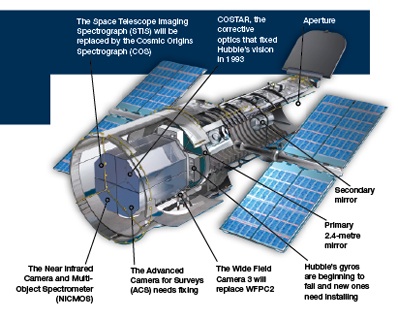 Hubble's instruments. Image: NASA.
Spacewalk schedule
Flight day 4 (14 May)
The first spacewalk (EVA-1) will see astronauts install the WFC3.
Flight day 5 (15 May)
EVA-2 takes place to replace Hubble's drained batteries and repair the ACS.
Flight day 6 (16 May)
Installation of the COS instrument takes place during EVA-3.
Flight day 7 (17 May)
EVA-4 to repair the stricken STIS instrument.
Flight day 8 (18 May)
The final spacewalk will repair the fine guidance system and gyros.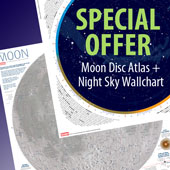 The Planets


From tiny Mercury to distant Neptune and Pluto, The Planets profiles each of the Solar System's members in depth, featuring the latest imagery from space missions. The tallest mountains, the deepest canyons, the strongest winds, raging atmospheric storms, terrain studded with craters and vast worlds of ice are just some of the sights you'll see on this 100-page tour of the planets.


GET YOUR COPY


Hubble Reborn


Hubble Reborn takes the reader on a journey through the Universe with spectacular full-colour pictures of galaxies, nebulae, planets and stars as seen through Hubble's eyes, along the way telling the dramatic story of the space telescope, including interviews with key scientists and astronauts.


GET YOUR COPY


3D Universe


Witness the most awesome sights of the Universe as they were meant to be seen in this 100-page extravaganza of planets, galaxies and star-scapes, all in 3D!


GET YOUR COPY