New comet on show
BY MARK ARMSTRONG
ASTRONOMY NOW

Posted: 17 April, 2009
There has been a bit of a dearth of bright comets recently apart from Comet Lulin, which is still visible in the evening sky. Comet's are highly unpredictable and new discoveries are happening every month, most of them pretty faint. A new comet has just been discovered which is around ninth magnitude but will only be on show for a month or so. Comet 2009 F6 (Yi-SWAN) is currently residing in Cassiopeia and is circumpolar and observable all night. Unfortunately (there's always a but!) Cassiopeia and neighbouring Perseus are not well placed now and into May, languishing close to the north- north-west horizon.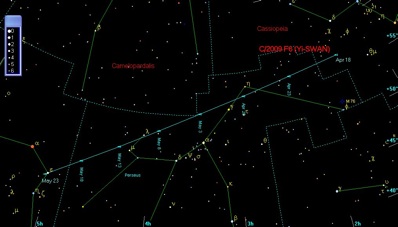 Click to enlarge finder chart for Yi-SWAN.
At the end of nautical twilight at 21.30 BST the comet is about 25 degrees above the north-north-west horizon in Cassiopeia close to the Perseus border, five degrees south- south-east of third magnitude Ruchbah (delta Cassiopeiae). If you can get your telescope to this part of the sky is should be visible in small to moderate apertures. Early reports say it is a couple of arcminutes across and looks cometary but totally diffuse with no nucleus or tail apparent in apertures around 100mm. It should even be visible in binoculars now that the Moon is out of the way in the evening sky until the start of May.
In the next few days it moves across the border into Perseus and passes south of the magnificent Double Cluster on April 23/24. The comet is unfavourably placed on the far side of the Sun and should not vary too much in brightness over the next couple of weeks. It is at perihelion in early May at 1.3 AU and is too close to the Sun to observe by late May. The comet was discovered on DSLR images by Korean amateur astronomer, Dae-am Yi, on 26 March and reported as a possible comet in SOHO-SWAN images by Rob Matson on 4 April.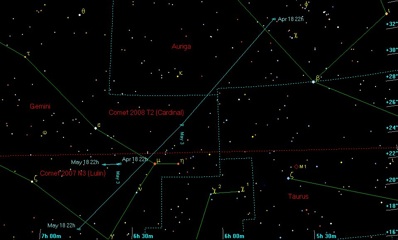 Click to enlarge finder chart comets Lulin and Cardinal.
Two other mag. 10 comets are still worthy of attention in the early evening sky. 2007 N3 Lulin is in southern Gemini close to epsilon and mu and won't move very far in the coming weeks. In the next week or so it should be observable for a couple of hours in the western sky. Comet C/2008 T2 Cardinal makes steady progress through Auriga. Last week it passed very close to the bright Messier open cluster M38 and on the 21st and 22nd it passes within two degrees of M37, another bright open cluster. Its track takes it closer to Lulin as it moves into Gemini in early May.
For more on Comet Lulin read our news story Comet Lulin visits inner Solar System.