Three-dimensional anatomy of a solar storm
BY DR EMILY BALDWIN
ASTRONOMY NOW

Posted: 15 April, 2009
NASA's twin Solar Terrestrial Relations Observatory (STEREO) have made the first three-dimensional measurements of solar storms which could help scientists predict the effects felt 150 million kilometres away on the Earth.

Solar eruptions, or coronal mass ejections (CME), are powerful explosions of plasma and magnetic energy released from the Sun's outer atmosphere. When directed at the Earth, they can have damaging effects, striking the top of the atmosphere at speeds of over one and a half million kilometres per hour. While responsible for the beautiful aurora at the Earth's poles, the storms are particularly damaging to satellite communications, GPS and mobile phone reception, and power grids, causing wide spread black outs.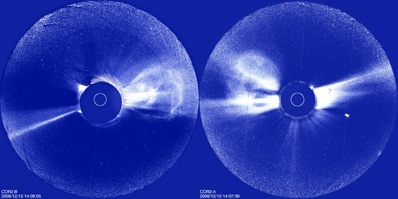 A coronal mass ejection was captured on 12-13 December 2008 by the twin STEREO spacecraft. Data from both spacecraft are shown simultaneously. Image: NASA.
Now scientists have been able to map these solar storms in three-dimensions, plotting their size and shape as they plough through space. Moreover, the images allow scientists to predict the arrival of a storm at least 24 hours beforehand, allowing more time for preventative measures to be put in place in order to minimise disruption to technology on Earth as well as astronauts who may be exposed on the International Space Station.
"Using STEREO observations, we can extract a CME's properties and are able to determine when it will reach Earth, at what speed, and with how much energy it will impact Earth's magnetosphere," says Angelos Vourlidas, of the Naval Research Laboratory, and project scientist for STEREO's SECCHI (Sun Earth Connection Coronal and Heliospheric Investigation) imaging suite. "Before this unique mission, measurements and the subsequent data of a CME observed near the Sun had to wait until the ejections arrived at Earth three to seven days later. Now we can see a CME from the time it leaves the solar surface until it reaches Earth, and we can reconstruct the event in 3D directly from the images."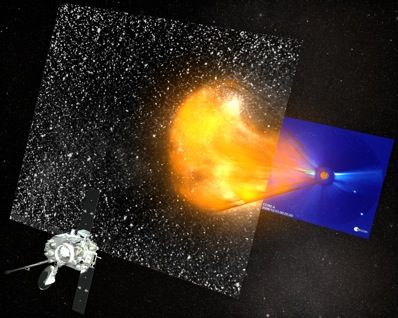 3D observations by STEREO have allowed scientists to measure the size, shape and speed of solar explosions as they power through space towards the Earth. Image: NASA.
The images are only possible thanks to STEREO's twin spacecraft, positioned at different vantage points in Earth orbit - one is ahead of Earth in its orbit around the Sun, while the other trails the planet. Together they make simultaneous observations of the Sun and its plasma outbursts, which can be reconstructed into three dimensions.
"The new vantage point of these spacecraft has revolutionized the study of solar physics," says Madhulika Guhathakurta, STEREO program scientist at NASA Headquarters. "We can better determine the impact of CME effects on Earth because of our new ability to observe in 3D."
Quicktime movies showing the CMEs and STEREO in action are available here.