Top Stories





Giant waves twisting in solar atmosphere

...Scientists have detected giant waves twisting in the Sun's lower atmosphere, shedding light on the mystery of why the solar corona is hotter than the Sun's visible surface...

The latest theory-defying supernova

...A star one hundred solar masses and one million times brighter than our Sun before it exploded, should not have self-destructed so early in its life, according to the fundamental theories of stellar evolution...

Planck and Kepler Exclusive Interviews

...Astronomy Now talks to the scientists and engineers behind the Herschel and Planck missions...



Spaceflight Now +





Subscribe to Spaceflight Now Plus for access to our extensive video collections!
How do I sign up?
Video archive

STS-120 day 2 highlights

Flight Day 2 of Discovery's mission focused on heat shield inspections. This movie shows the day's highlights.

Play

STS-120 day 1 highlights

The highlights from shuttle Discovery's launch day are packaged into this movie.

Play

STS-118: Highlights

The STS-118 crew, including Barbara Morgan, narrates its mission highlights film and answers questions in this post-flight presentation.

Full presentation
Mission film

STS-120: Rollout to pad

Space shuttle Discovery rolls out of the Vehicle Assembly Building and travels to launch pad 39A for its STS-120 mission.

Play

Dawn leaves Earth

NASA's Dawn space probe launches aboard a Delta 2-Heavy rocket from Cape Canaveral to explore two worlds in the asteroid belt.

Full coverage

Dawn: Launch preview

These briefings preview the launch and science objectives of NASA's Dawn asteroid orbiter.

Launch | Science

Become a subscriber
More video







World's first Dark Sky Discovery Sites announced
in Scotland
BY DR EMILY BALDWIN
ASTRONOMY NOW

Posted: 27 March, 2009
As part of International Year of Astronomy celebrations, the world's first two Dark Sky Discovery Sites have been announced in Scotland.
The Dark Sky Scotland partnership named two sites as Newbattle Abbey College and Highland Council's Glen Nevis Visitor Centre grounds near Fort William. Both sites offer excellent viewing conditions of the night sky, since they are relatively free of light pollution and tall buildings, and are also safe and accessible to the public.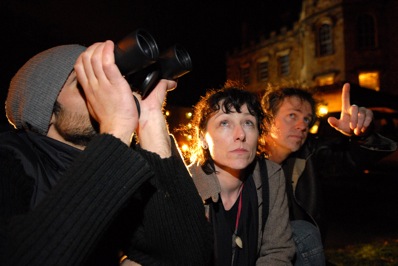 Students study the stars at Newbattle Abbey College in Dalkieth which, together with the Glen Nevis Visitor Centre near Fort William, have become the world's first Dark Sky Discovery Sites. Image: Forestry Commission Scotland.
"Many of us live in light polluted towns and cities yet in every community there is somewhere that is the best local place to go to look up and discover the stars," says Dan Hillier from the Royal Observatory Edinburgh Visitor Centre. "From these places, which might be a park or playing field, you can see planets, hundreds of stars, space satellites and other wonders of the night sky. The organisations that have identified these first two Dark Sky Discovery Sites have taken a world leading role in helping people to discover the Universe that is on their doorsteps."
Noah Fitzcharles from the nominated site at Newbattle Abbey College is delighted with the result and hopes that students, staff and members of local community groups who live in an urban environment will now be encouraged to explore the sky. Jeremy Thompson of Forestry Commission Scotland, which works closely with Newbattle Abbey College adds: "Woodlands are a fantastic place to view the stars from. Not only do you get a still silence but it adds a natural feel to the whole experience of stargazing. This project is a great example of adding a new and exciting dimension to visiting a woodland at night."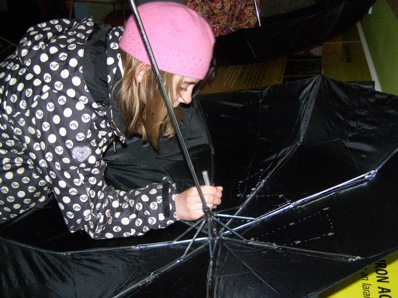 Rebecca MacKinnes making her own night sky umbrella at the Dark Sky event at the Glen Nevis Visitor Centre. Image: Miriam Iorwereh
Further Dark Sky Discovery Sites will be identified throughout 2009 in other parts of the UK and Ireland, and a similar initiative is being adopted in the United States. Once a Dark Sky Discovery Site has been announced, it is added to a database to enable the public to locate their nearest site. For more information visit www.darkskyscotland.org.uk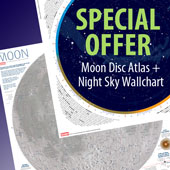 The Planets


From tiny Mercury to distant Neptune and Pluto, The Planets profiles each of the Solar System's members in depth, featuring the latest imagery from space missions. The tallest mountains, the deepest canyons, the strongest winds, raging atmospheric storms, terrain studded with craters and vast worlds of ice are just some of the sights you'll see on this 100-page tour of the planets.


GET YOUR COPY


Hubble Reborn


Hubble Reborn takes the reader on a journey through the Universe with spectacular full-colour pictures of galaxies, nebulae, planets and stars as seen through Hubble's eyes, along the way telling the dramatic story of the space telescope, including interviews with key scientists and astronauts.


GET YOUR COPY


3D Universe


Witness the most awesome sights of the Universe as they were meant to be seen in this 100-page extravaganza of planets, galaxies and star-scapes, all in 3D!


GET YOUR COPY