Migrating giants turned asteroids into missiles
KULVINDER SINGH CHADHA
ASTRONOMY NOW

Posted: 26 February, 2009
The migration of Jupiter and Saturn could have turned asteroids in the early Solar System into missiles that pelted the inner planets. This is the interpretation of a team of scientists who discovered that asteroids in the Asteroid Belt are missing.
The team, from the University of Arizona looked at the distribution of all asteroids over 30 kilometres in diameter. It is well known that the gravitational effect of Jupiter and Saturn creates regions in the Asteroid Belt (a ring of rocky bodies lying between the orbits of Mars and Jupiter) where objects can't stay in stable orbits around the Sun. Over time, these objects leave the regions, creating what are known as the Kirkwood gaps (discovered and explained in 1857 by the American astronomer Daniel Kirkwood).
Graduate Student David Minton says, "What we wanted to know was, how much of the structure of the Asteroid Belt could be explained simply by the gravitational effects of the giant planets, [such as] the Kirkwood gaps."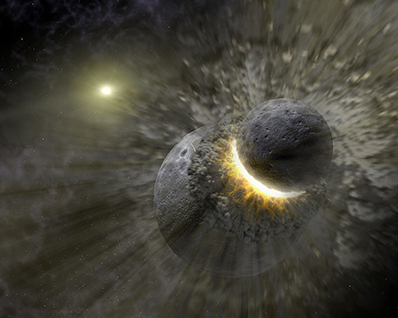 The migration of Jupiter and Saturn into their current orbits could have flung asteroids out of the Asteroid Belt, sending them to impact with inner Solar System planets.
Image: NASA/JPL-Caltech/T. Pyle (SSC).
Virtually all of the asteroids the Arizona team looked at would have remained intact since they (along with the rest of the Solar System) formed, over four billion years ago. This gave them a large sample size of asteroids whose behavior would have been affected from the very beginning.
The team ran a computer simulation that started out having a uniform asteroid belt. Gaps then did indeed appear, but there was a discrepancy. Although the Sun-facing side of the simulated gaps matched with the real Kirkwood gaps, the Jupiter-facing sides didn't. The simulated gaps contained more asteroids than the ones in the real Asteroid Belt. Clearly the model wasn't giving an accurate picture of reality.
"Then we simulated the migration of the giant planets," Minton says. "The perturbing effects of the migrating planets sculpted our simulated asteroid belt. After the migration was over, the simulated belt looked much more like the real Asteroid Belt."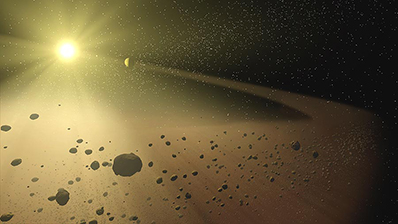 The University of Arizona team found that migration by the gas giants was the only way to explain the gaps in their simulated asteroid belts. Image: NASA/JPL-Caltech/T. Pyle (SSC).
The conclusion is that during the migration, asteroids would have been flung out of the belt, with some possibly going on to strike the inner planets of Mercury, Venus, Earth and Mars. Planetary scientist Professor Renu Malhotra says, "As Jupiter and Saturn migrated, their orbital resonances swept through the Asteroid Belt, ejecting many more asteroids than is possible with the planets in their current orbits. The particular pattern of missing asteroids is characteristic of this migration."
A big strength of the team's work is that it appears to support other, independent lines of evidence that suggest a migration. But can it explain the Late Heavy Bombardment – the early period in the Solar System's history when the Moon (and thus the other inner Solar System bodies) were peppered and cratered by a rain of impactors? Minton admits: "Our result doesn't directly answer the question of whether the timing of this can be tied to inner Solar System heavy bombardment – that's open for debate." However, he also adds, "All the asteroids being kicked out of the Asteroid Belt had to go somewhere."