Black hole outflows from Centaurus A revealed

BY DR EMILY BALDWIN
ASTRONOMY NOW

Posted: 29 January, 2009
Using the Atacama Pathfinder Experiment's submillimetre wavelength capabilities, new insight has been gained into the jets and lobes flowing from Centaurus A's central black hole.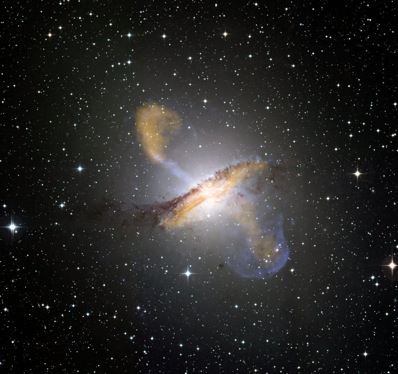 Colour composite image of Centaurus A, revealing the lobes and jets emanating from the active galaxy's central black hole. Image: ESO/WFI (Optical); MPIfR/ESO/APEX/A.Weiss et al. (Submillimetre); NASA/CXC/CfA/R.Kraft et al. (X-ray).
At a distance of around 13 million light years in the southern constellation of Centaurus, Centaurus A (NGC 5128) is one of the Earth's closest giant galaxies. It has an elliptical morphology with a pronounced dust belt running around its central bulge of evolved red stars, and is currently devouring a nearby spiral galaxy in a merger event, triggering localised regions of intense star formation.
The galaxy also hosts a very active and highly luminous central region, caused by the presence of a supermassive black hole which is the source of strong radio and X-ray emission and relativistic plasma jets. Thanks to the Atacama Pathfinder Experiment (APEX) these extraordinary features have been observed at submillimetre wavelengths for the first time.
The new data have been combined with visible and X-ray wavelengths to paint a detailed picture of the dust ring encircling the giant galaxy and the fast-moving radio jets ejected from the galaxy centre, signatures of a supermassive black hole lurking at the galaxy's centre. Inner lobes of radio emission north and south of the disc have also ben discerned. This emission results from fast-moving electrons spiraling around magnetic field lines, and the measurements reveal that the material in the jet is traveling at approximately half the speed of light. In the X-ray emission the jets are seen to emerge from the centre of the galaxy, and the expanding lobe collides with the surrounding gas to create a shockwave, visible to the lower right of the galaxy.
APEX is a 12 metre diameter submillimetre wavelength telescope located on the 5000 metre high plateau of Chajnantor in the Chilean Atacama region.