Top Stories





Mars rovers celebrate fifth year of three month mission

...NASA's Spirit and Opportunity rovers celebrate their fifth year exploring the Red Planet this month...

A Christmas cluster

...astronomers celebrated he festive season with NGC 2264, which includes the sparkling blue baubles of the Christmas Tree star cluster...

Did prehistoric asteroid smash stimulate life?

...microscopic meteorite fragments discovered in Scotland that fell 480 million years ago coincided with a time of dramatic upheaval on Earth...



Spaceflight Now +





Subscribe to Spaceflight Now Plus for access to our extensive video collections!
How do I sign up?
Video archive

STS-120 day 2 highlights

Flight Day 2 of Discovery's mission focused on heat shield inspections. This movie shows the day's highlights.

Play

STS-120 day 1 highlights

The highlights from shuttle Discovery's launch day are packaged into this movie.

Play

STS-118: Highlights

The STS-118 crew, including Barbara Morgan, narrates its mission highlights film and answers questions in this post-flight presentation.

Full presentation
Mission film

STS-120: Rollout to pad

Space shuttle Discovery rolls out of the Vehicle Assembly Building and travels to launch pad 39A for its STS-120 mission.

Play

Dawn leaves Earth

NASA's Dawn space probe launches aboard a Delta 2-Heavy rocket from Cape Canaveral to explore two worlds in the asteroid belt.

Full coverage

Dawn: Launch preview

These briefings preview the launch and science objectives of NASA's Dawn asteroid orbiter.

Launch | Science

Become a subscriber
More video







The Universe is yours
to discover

BY DR EMILY BALDWIN
ASTRONOMY NOW

Posted: 05 January, 2009
The International Year of Astronomy 2009 (IYA2009) promises to make the Universe yours to discover, in a year that celebrates the 400th anniversary of Galileo's first astronomical observation of the Moon through a telescope and the 40th anniversary of the first Moon landings.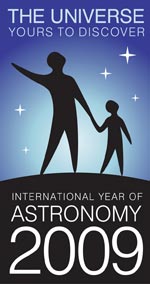 IYA2009 was launched by the International Astronomical Union (IAU) and the United Nations Educational, Scientific and Cultural Organization (UNESCO), in order to recognise and promote astronomy's contribution to society and culture, and to inspire the public to take an interest in this fascinating subject. Events will be taking place throughout 2009 at regional, national and global levels to showcase scientists and raise public awareness of the science of astronomy. Many amateur astronomers and local societies are running events.

"135 countries have committed themselves to the Year, all pulling together toward the common aim of making astronomy accessible to the public," says IAU President Catherine Cesarsky. "IYA2009 will reinforce the links between science education and science careers, stimulating a long-term increase in student enrolment in the fields of science and technology and an appreciation for lifelong learning."

IYA2009 is currently supported by eleven Cornerstone projects, global programmes centred on specific themes, such as the support and promotion of women in astronomy in the She is an Astronomer project, or raising awareness of light pollution in the Dark Skies Awareness scheme. The project aims to reveal how the beauty of the night sky is progressively being drowned out by inconsiderate lighting, particularly over urban areas. Star-counting events will be held across the globe, where the public are encouraged to see how many stars in a particular area of the sky are actually visible from their location. When compared with data from truly dark sites, the results are often very surprising.
The official trailer for the IYA2009. Credit: IYA2009/IAU/UNESCO.
Other global events include From Earth to the Universe (FETTU), an exhibition that will bring large-scale astronomical images to a wide public audience in non-traditional venues such as public parks and gardens, art museums, shopping malls and metro stations. Over 30 countries around the world are currently developing their own exhibitions. The Cosmic Diary will comprise online blogs from professional astronomers describing their work and home lives, the challenges they face and their daily activities, and 100 Hours of Astronomy will see a 100-hour round-the-clock, round-the-globe event that will endeavour to get as many people looking through a telescope as possible, just as Galileo did 400 years ago.
In the UK an official launch event will take place on 18 February at the Royal Observatory Greenwich, where the emphasis of IYA2009 for many will be the lesser known Thomas Harriot, an astronomer who also observed the Moon through a telescope 400 years ago, but unlike Galileo, did not publish his work. Harriot's work will be celebrated in a national event – Telescope400 – held on 26 July at Syon Park, where Harriot lived for much of his life.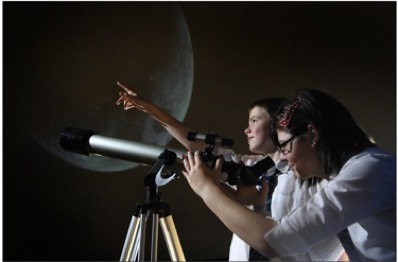 The Society for Popular Astronomy (SPA) and the Science and Technology Facilities Council are giving away telescopes to 1,000 schools to help promote astronomy to primary and secondary school-age children. Image: IYA2009.
With many exciting astronomical events occurring throughout 2009, including the longest total solar eclipse of the 21st century occurring on 22 July 2009 and lasting 6 minutes 39 seconds over a narrow corridor through countries including India, Bangladesh and China, and a strong shower of Leonid meteors expected in mid-November with potentially 500 shooting stars per hour, there is no better time to impress the public, even with small amateur telescopes. Furthermore, three dedicated MoonWatch weeks have been highlighted for professionals and amateurs alike to encourage the public to look through a telescope at the Moon. A Schools MoonWatch has been assigned for 19-29 November, when the skies will be suitably dark to observe the Moon right after school. Furthermore, the Society for Popular Astronomy and the Science and Technology Facilities Council are giving away 1,000 70mm refrectors to schools, complete with 'how to' DVDs. More details of MoonWatch and the Telescopes for Schools initiative can be found at www.popastro.com/moonwatch.
Even for the most avid astronomer, 2009 is the ideal time to learn more about the cosmos and our place within it. For some ideas on how to broaden your knowledge base at a range of levels, check out our Try something new feature in the January issue of Astronomy Now, onsale now. And for more information about IYA2009 and the year's events, visit www.astronomy2009.org
Wishing you a very happy International Year of Astronomy, from all at Astronomy Now!