New view of Omega Centauri
BY DR EMILY BALDWIN
ASTRONOMY NOW

Posted: 03 December, 2008
The European Southern Observatory has released a stunning new image of the "glittering giant of the southern skies", Omega Centauri, the most massive of all our Galaxy's globular clusters.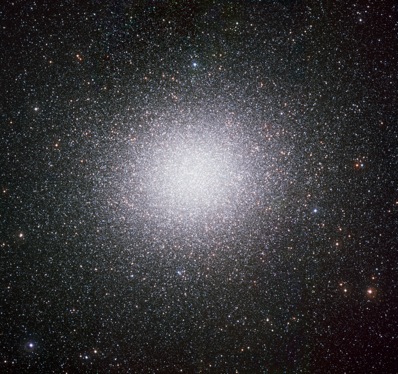 Astronomers obtained this image using the Wide Field Imager (WFI) on the 2.2 metre Max-Planck/ESO telescope, located at ESO's La Silla observatory in Chile. The image shows only the central part of the cluster — about the size of the full moon on the sky (half a degree) and is a composite of B, V and I filtered images. Image: ESO/EIS.
Omega Centauri is a magnitude 3.7 globular cluster located roughly 17,000 light years from Earth in the constellation of Centaurus, and is thought to contain some ten million stars. Globular clusters are some of the oldest groupings of stars to be found in the halos that surround galaxies like our own Milky Way, and Omega Centauri itself is thought to be around 12 billion years old. It is also the most massive cluster of stars known in the Milky Way, weighing in at ten times the mass of other big globular clusters, a peculiarity that prompted astronomers to study the giant further.
Indeed, recent research suggests that there is a medium sized black hole lurking at its centre. Observations made with the Hubble Space Telescope and the Gemini Observatory showed that stars at the cluster's centre were moving around at an unusual rate. Astronomers concluded that this unruly behavior was due to the gravitational effect of a black hole boasting a mass roughly 40,000 times that of the Sun. Before this observation, astronomers had only one example of an intermediate mass black hole in the globular cluster G1, in the nearby Andromeda Galaxy.
The discovery of a black hole at the heart of Omega Centauri has led some astronomers to suspect that Omega Centauri is not a globular cluster at all, but a dwarf galaxy stripped of its outer stars during an earlier encounter with the Milky Way. Other evidence points to the several generations of stars present in the cluster — something unexpected in a typical globular cluster, which is thought to contain only stars formed at one time.
Whatever the truth, this dazzling celestial object provides professional and amateur astronomers alike with an incredible view on clear dark nights. Appearing nearly as large as the full moon on the southern night sky, Omega Centauri is visible with the unaided eye from a clear, dark observing site. And even through a modest amateur telescope, the cluster is revealed as an incredible, densely packed sphere of glittering stars.